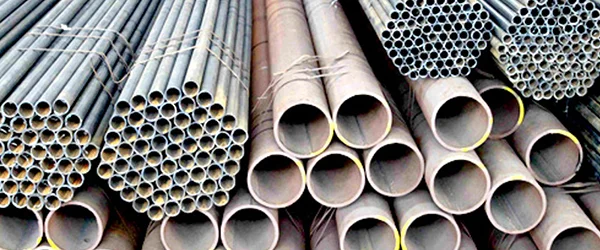 03 Feb

Seamless Alloy steel tube
INDUSTRIAL APPLICATIONS OF SEAMLESS ALLOY STEEL TUBE
Seamless Alloy Steel Tube and pipes are used and suitable for the applications of chemical, petrochemical, and various other applications related to energy. These pipes and tubes have a characteristic of high corrosion resistance and they are used in a wide range of industrial sectors.
A Brief About Alloy Steel
Alloy steel is described as a special type of steel that is alloyed in the presence of the different variety of elements that are between 1% and 50% in total amounts in weight so that it can improvise its mechanical properties. There are some characteristics of seamless alloy steel tube that are also detailed in some technical standards.
Alloy steel tubes deliver exceptional performance to meet customers' requirements. The alloy steel tube is used in various industries such as alloy steel ASTM A213 tubes are utilized in heating, ASTM A213 T5 is the seamless tubing that is utilized in water supply systems, Alloy steel T22 Tubes are used in the food processing industry, Alloy steel T91 tubes are used in structural pipes.
Types of Steel Alloy Tubes
There are many types of alloy steel tube such as ASTM A213 T11 Seamless  Alloy Steel tube, which are the tubes that are intended for the conveyance of low pressure of water, steam, natural gas, and many other liquids and various gases that are used in plumbing, heating systems, air conditioning units, automatic sprinkler systems, and many other related uses. Alloy steel T11 Seamless EN 10216-2 Tubes comes in different sizes, grades, specifications, and thickness. It can be customized according to customer requirements. These tubes are available in various dissimilar shapes.
There are various types of seamless steel tube that are used for building, mechanical, and general use such as steel tubes for building the hollow structural sections, tubes for mechanical and general engineering, tubes for machining, tubes for machine parts and general use, precision tubes and HPL tubes that are seamless and welded.
There are various seamless steel tubes for the pressure equipment such as tubes that are having specified room temperature properties, tubes with specified elevated temperature properties, alloy fine grain steel tubes for the pressure equipment, tubes with specified low-temperature properties, tubes for heat exchangers, and tubes with internal riffling.
It is an arduous task to find a suitable company that sells the seamless alloy steel tube at a reasonable price but We, TPP Boilers manufacturers renowned for manufacturing the seamless, welded, carbon steel, alloy steel, stainless steel. Our seamless alloy steel tube is the best that is used for transferring heat load through its thickness. We deliver our products at an appropriate time and at reasonable costs. Our team is equipped with promoters and promoter workers who are well-experienced and knowledgeable. We render our best services and our best products to our customers. Our foremost objective is customer satisfaction.
If you are looking for such kind of industrial products, feel free to contact us. You can call our team or visit our website to get detailed information about our products.