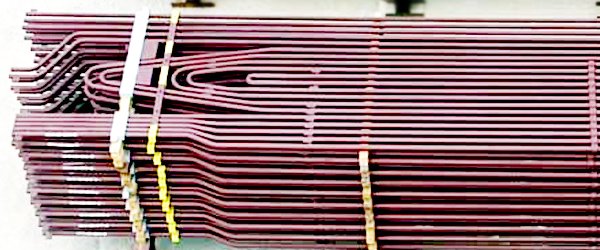 30 Dec

Super Heater Tube Bundle

A Superheater is an electrical appliance that is designed to convert the wet stream into the dry stream or saturated steam into superheated steam. In general, it is used in steam turbines for the purpose of developing electricity.
Three Types of super heaters are used in the industry:
Radiant superheater: This type of superheater is located directly in the zone of radiant of the combustion chamber near the wall of water.
Convection superheater: This type of superheater is placed in the zone of convection of the furnace.
Separately fired superheater: This type of superheater has its own separate combustion system and is located outside the main boiler.
Inside the superheaters, the tube is used which is known as a superheaters tube. The super heater tube bundle is a bunch of numerous tubes in a comprehensive range of stainless steel and nickel alloys. They are the tubes that are used for the process of heat transfer in the boiler.
If you are looking for a super heater tube bundle, then you can contact the TPB boilers. We are a market-leading manufacturer and distributor of Boiler Components and Fabricator of Replacement Boiler tubes; High-Temperature Steam Boiler Pressure Parts; Water Wall Tubes and Panels; Superheater & Economiser Coils / Economizer Tubes and Assemblies, Wall or Steam Header and other Boiler Pressure Parts and Heavy Structures. The products provided by us are available at reasonable prices. 
Our products are available at the pan India level and because of our top-quality after-sales service, we are regarded as one of the leading manufacturers of industrial products. Connect with our team to get a detailed quote as per your requirements.